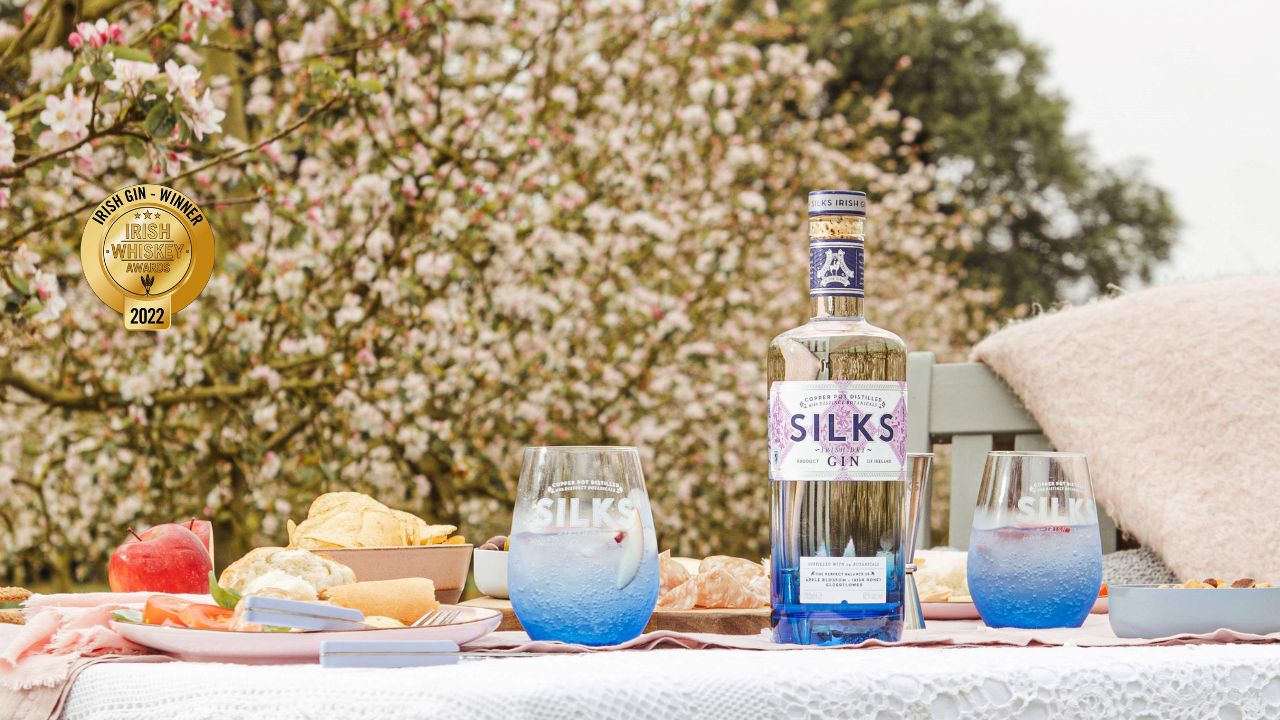 Silks Irish Dry Gin

Silks Gin is distilled by hand in small batches in our 500 litre custom copper pot still. Our signature botanicals are hand foraged from our family apple orchards; apple blossom from the trees, honey from our bees and elderflower and hawthorn blossom from our hedgerows. Our 14 distinct botanicals are macerated for 24 hours before slow distilling with vapour infusion. Each distillation is non-chill filtered and cut back with our own deep well water before bottling.
Distilled In Our Custom Copper "Bennett" Pot Still
Distilled with 14 Botanicals.
The Perfect Balance of Apple Blossom, Irish Honey & Elderflower.
Steeping our traditional botanicals for a day before distillation ensures our gin is fresh, bright, and balanced. A Vapour Infusion Chamber is used for the more subtle underlying flavours of our signature Irish botanicals which are foraged locally from our family orchards.
Copper Pot Distilled with 14 Distinct Botanicals
Juniper – Apple Blossom – Irish Honey – Elderflower – Coriander – Angelica – Grapefruit – Sweet Orange – Sage – Cardamon – Chamomile – Cassia – Irish Apple – Hawthorn Blossom
Buy Online
Apple Blossom
Apple blossom picking happens in a flurry over 2 weeks in mid May. Blossom season is fleeting so we must be quick. The apple blossom is then laid out in front of the copper pot stills in the distillery to dry before storing in glass jars awaiting distillation.
Discover All
Honey
A swarm of bees on a neighbours gate marked the origins of Sunshine Apiary in our Orchards in 2016. Marie and Sally Anne Cooney tend the 6 beehives in the orchard.
Discover All
Elderflower
Every June the hedgerows surrounding the orchards are covered in masses of white flowers. The distinctive elderflower and hawthorn blossom are key signature ingredients in Silks Gin.
Discover All