Launching the Whistler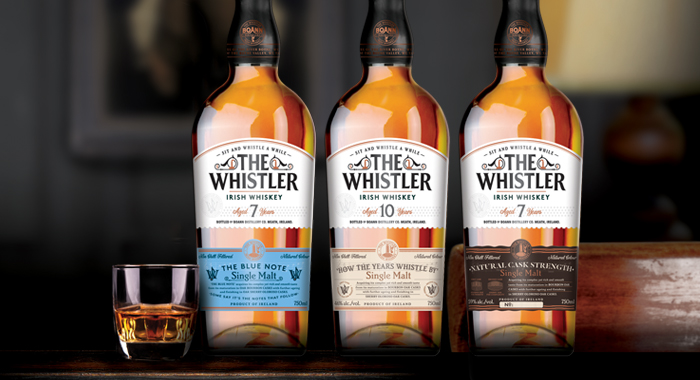 We have finally unveiled our debut range of Irish single malt whiskey which we have been quietly aging away in our own barrels for the last number of years – The Whistler.
The Whistler collection consists of a family of three exceptional whiskeys:
'The Blue Note' – Single Malt, 7 Year old Irish Whiskey – 46% Alc/Vol
'How The Years Whistle By' – Single Malt, 10 Year old Irish Whiskey – 46% Alc/Vol
'Natural Cask Strength Limited Edition' – Single Malt, 7 Year Old Irish Whiskey – 59% Alc/Vol
The whiskeys have been aged in first fill Bourbon barrels before being transferred to hand selected Oloroso Sherry casks to finish for two years. The Sherry cask finish adds a rich sweetness and depth to the whiskey. All have been bottled at natural colour without chill filtration.
The 7 year old, Natural Cask Strength edition is limited to 1200 bottles.
The Whistler story is based on a rich history of family traditions, inspired by the legendary Boyne Valley. Whistled into life one fabled New Year's Eve, the range is born of the noteworthy craft and time honoured traditions that are as old as the story told, the written word and the whistled tune.
The Whistler range was officially launched at 'Whiskey Live', Ireland's premier whiskey tasting event which took place in the Printworks, Dublin Castle this weekend by the family. We had a great day networking and meeting with whiskey lovers and enthusiasts, who to a man , loved the whiskey!